Welcome Mud People to the Artemis Fowl Fun Site unnoffical site

Books For Sale:

Artemis Fowl Trilogy Signed (Rare)
Eoin Colfer signed in windsor July 2003

Price: UK £40 FOR WHOLE SET!

NOTE I AM RAPIDLY RUNNING OUT OF THESE with less than 3 Sets

remaining and once gone may not be available again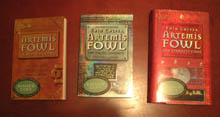 This is an wonderful opportunity to own a complete set of the Artemis Fowl trilogy signed by Eoin Colfer on each of the title pages.The set comprises of:
Two Signed Paperback Editions: Book 1 and 2
(copyright no:25 and 3,Published in 2002. Published in 2003)
One Signed Hardback Edition:
Artemis Fowl and the Eternity Code - featuring a 4 on the copyright page. Published in 2003.
Condition:
The books are in Mint unread condition.And although they are not First Editions they were all signed simultaneously by Eoin Colfer recently on his tour through the UK when he stopped in Windsor, making them a rare find, and an excellent addition for fans and collectors alike.
With a movie in the making, this collection will undoubtedly increase in value in the future.
Shipping: Can ship anywhere in the UK, costs will vary, Most places in the UK 4.50 but please ask for confirmation by email.

Location of Book: United Kingdom
Price: UK £40 FOR THE WHOLE SET
I accept cheques. cash in UK Pounds or postal orders.

Buy the Books:
if you would like any information about the books or would wish to buy them please do not hesitate to contact me by email. email: pottermovie@yahoo.co.uk and quote 'Artemis Fowl Trilogy'
---
Search: coming soon
Other books by Eoin Colfer :