Quiz
Tictactoe
Crossword
Fan Art
Ecards
Encyclopedia


Rumours
The Movie
Interviews
The Author
Book Review
Press Articles
For Sale new



Links
Forum
Search
Buy it now
Guestbook

Affiliates:

Movie Bites
Filming to begin in October in 'America and Ireland'
Eoin Colfer to Toured USA in May 2002
Mirimax to produce more 'kid' films click here
Info

Chamber of Secrets DVD at amazon.co.uk click here to buy it now.
Welcome Mud People to the Artemis Fowl Fun Site unnoffical site

Artemis Fowl and the Eternity Code (BOOK 3!!!)

Artemis Fowl: The Arctic Encounter, The Eternity Code takes the books' eponymous young anti-hero, who with each successive adventure turns out to be a little less bad after all, on his most dangerous mission yet.Artemis and his bodyguard Butler have set up a meeting in Chicago with dangerous international businessman Jon Spiro. In his latest eager attempt to make money, using a priceless futuristic cube of purloined Fairy gadgetry that can do just about anything, Artemis has underestimated Spiro and arrived at the rendezvous under-prepared. Big mistake. It is an ambush, and though Artemis escapes with his life, Butler is mortally wounded.Was released on the 1st May 2003 in the UK (336 pages)

Latest News
Eoins News from his official site here
Eoin Colfer has posted new updates on his site here Basically confirming that the fourth Artemis Fowl book will be released in 2004, but before then a mini adventure will be released in late 2003, along with a full length sci-fi book "The Supernaturalist" , and a book for younger readers next spring "The Legend of Spud Murphy".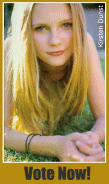 After Months of speculation we are still no closer to finding out who will be playing Holly Short in the upcoming movie. We have no confirmation of filming dates and no announcements have been made, we thought we'd have a bit of fun and see which actress Artemis Fowl fans across the world think would suit the part of Holly best. So follow the link below and vote for who you think should play the part of Holly. And no....you can't vote for yourself!
Vote for Who you think should play Holly Short

Write or Read Artemis Fan fiction
Are you a writer? do you like reading other peoples stories? want to continue where Eoin Colfer left off? well here's your chance at fanfiction.net. Theres a whole page dedicated to Artemis Fowl fan fic, so why not check it out and post your own piece. Who knows who might read it? I know Eoin knows about this site.
Read Artemis Fan fiction stories or write your own here

2003 Contest (Postponed due bandwidth problems)
Looking forward to the upcoming Movie. Want to see what the movie poster looks like? Well we cant help you there...but we want you to help us think up a 'mock' design for the movie posters. So unleash your creativity and check out the contest by clicking on the link below.
Exclusive 2004 Contest here mer

Finished the first books? Looking for something else?
Try 'Stormbreaker' by Anthony Horrowitz. (Book 1)
"When his guardian dies in suspicious circumstances, Alex Rider goes from schoolboy to superspy within days as his world is turned upside down. Forcibly recruited into MI6, Alex has to take part in gruelling SAS training. Then, armed with his own special set of secret gadgets, he's off on his first mission. His destination is the depths of Cornwall, where middle-eastern multi-millionaire Herod Sayle is producing his state-of-the-art Stormbreaker computers."
Click here to check it out now at amazon.co.uk
Other books in the series:
Point Blanc Book 2
Skeleton Key Book 3
Artemis Fowl Smart Group
| | |
| --- | --- |
| | keep yourself informed by joining our Smart Group, You will be able to discuss the books with other fans, vote in member polls, and try out new quizs' and trivia. |

Search:

Other books by Eoin Colfer :
check Eoins official site at eoincolfer.com







Liked Artemis Fowl?
Try these other books:
Sabriel popular!
Artemis Fowl stuff
Buy them at Amazon
We were awarded

A 4 Shamrock rating

Great Movies
If you liked Artemis Fowl Try these movies:
About the Site
April 29th 2001: Site opens, and is one of the first Artemis Fowl sites online. The Artemis Fowl Fun Site (AFFS).
Site wins Doras Site Award, achieving a level 4 shamrock rating.
Site affiliates with Artemis Fowl World.
AFFS Site Establishes the Top 10 Artemis Fowl website webring.
Site affiliates with artemisfowl.co.uk and webmasters exchange links, and share information on contests.
Webmaster contact
Goblet of Fire Movie News can be found here at our affiliates site.